←
→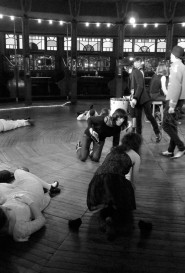 MIRAGE
Making Of et photos de plateau
Clip musical du nouveau groupe « JOY » de Marc Huyghens (ex Vénus).
La thématique du film fait référence à « On achève bien les chevaux » de Sydney Pollack, 1969.
Joy is a belgian-swedish trio founded in Brussels in 2008. The group features Françoise Vidick on drums ans vocals, Anja Naucler on cello and Marc A. Huyghens (who previously fronted the band Venus) on guitar and vocals. Their music conjures up a nightly scent of wind, earth, soot and dust.