←
→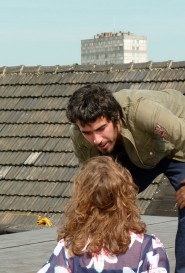 YADEL
Making Of  et Photos de plateau
Yadel is the last son born to a Turkish family living in Belgium. Three years before him, almost the same day, died a first Yadel. To be named after this deceased brother he never knew haunts Yadel. He is unable to find his place in his family. Today, on his birthday, he decides to struggle once and for all with the ghost of his brother. It will be him or him.
Le jour de son anniversaire, Yadel est persuadé qu'un évènement particulier va se produire et lui permettre de régler le problème central de son existence : avoir hérité du nom d'un frère né mort avant lui, Yadel le Premier. Un frère qu'il n'a pas connu, mais qui a conditionné toute sa vie, sa place au sein de sa famille, et jusqu'à sa croyance d'avoir le droit ou non d'être de ce monde.
Comment faire pour vivre normalement quand on a hérité du prénom d'un frère mort ? « Yadel » le premier film de Kenan Görgün.
Director
Kenan Görgün
Writer
Kenan Görgün
Cinematography by
Tiago Mesquita
Makeup Department
Aurélie Elich
First Assistant Director
David Baldari
Second Assistant Director
Matthias Morard
Sound Department
Mathieu Michaud
Alexis Oscari
André Philips
Denis Ruelle
Mathias Van Gasse
Dembo Ziavoula
Steadycam Operator
Manu Alberts
First Assistant Camera
Alexander Beyne
....
Produced by
Christophe Mazodier
Tiago Mesquita
Jean-Jacques Neira
Hubert Toint
Actors
Pascaline Crevecoeur
Erika Sainte
Othmane Moumen
Marcel Gonzalez
and
Kubat Duruel
Ramazan Kurutepe
Bilal Köse
Pakis Köse